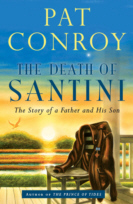 Hi everyone....
I plan to use my blog to promote writers conferences, new works by my favorite authors, and to keep every one updated on the progress of my novel, Innocence Lost. That being said it's only fitting that my first blog be dedicated to my favorite author, Pat Conroy. Mr. Conroy's new novel, The Death of Santini hit the shelves on October 29, 2013.

So, in case you live under at rock.....Pat Conroy is a New Your Times bestselling author who has written several acclaimed novels and memoirs including The Prince of Tides and The Great Santini, both were made into Oscar-nominated films. In the 1976 novel The Great Santini, the main character is a Marine fighter pilot Colonel Bull Meecham who dominates and terrorized his family. Bull Meecham physically and psychologically abuses his teenage son Ben. The character of Bull Meecham is based on Conroy's father Donald. In Conroy's new memoir entitled The Death of Santini he recounts the volatile relationship he shared with his father up until his father's death in 1998.

If you haven't read any of Pat Conroy's novels then you are missing out on a beautiful experience. His use of words and style transports the reader to the deep south. I feel the humidity of a South Carolina summer day when I read his prose. Don't take my word for it, download one of his novels today and see for yourself. (My favorite is The Prince of Tides.) Without a doubt, Pat Conroy is a leading figure of late 20th century southern literature.