Waccamaw Library Author Table on January 26, 2107
| | |
| --- | --- |
| | Thank you to everyone who came to the Waccamaw Neck Branch Library Author Table. We had an amazing turnout for the event. It was great to meet so many wonderful and interesting people. Thanks for the great questions and the loving support. Thank you to my fantastic neighbors; Carol Duckworth for helping with my table and Jean Baseel for the lovely gift. Special thank you to Mallary, Steele, and the other staff members at the Waccamaw Library for planning and setting up the event. And of course to my wonderful husband, Bill, who hauled my books and took photos for me. |
---
Barnes & Noble Book Signing Event - November 12, 2016
Thank you to all my friends and family in Louisville, Kentucky who came out to support me at my book signing event at the Paddock Center Barnes & Noble Bookstore. We had an amazing turnout and I was thrilled to see so many old friends and make some new friends. A special thank you to Timothy Barnett for setting up the event for me.
---
Kentucky Book Fair, November 5, 2016
I was honored to be invited to the 35th Annual Kentucky Book Fair. The event was well organized and the KBF staff was fantastic! The staff took such good care of the authors. I was paired at a table with fellow South Carolina author, Bill Looney. Bill is an amazing author and he's so darn funny. We laughed and cut up all day. I was thrilled to have my best friend, Nora Moloney, with me for the day. Nora was a huge help and having her with me made the day even more special. Kentucky is a welcoming state filled with warm and kind people. Even though I live in South Carolina, I'm proud to say that I'm from the great state of Kentucky, also known as the Big Blue Nation (I had to throw that in).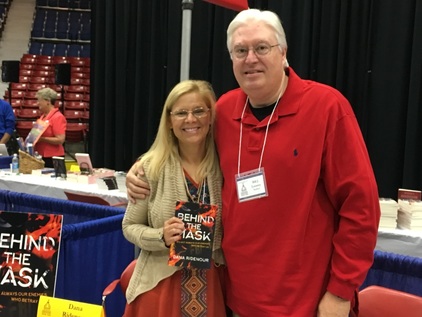 ---
Decatur Book Festival, September 2016
---
Meade County Public Library Signing, June 4, 2016
We had a wonderful crowd at the Meade County Library. So happy to see all of my old friends!
---
Behind The Mask Book Launch Party, April 30, 2016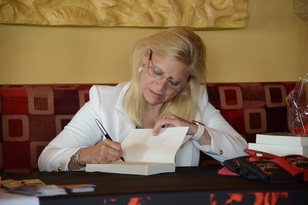 The Behind The Mask launch party was held in the picturesque private event room at Wahoo's Fish House overlooking the salt marsh in Murrells Inlet, South Carolina. There was a fabulous turnout for the launch. It was a wonderful evening celebrating with old friends and meeting new friends.
---