First Book Spring Luncheon - March 24, 2018

I was thrilled when I learned that the First Book Spring Luncheon in which I was the keynote speaker was SOLD OUT. First Book is a marvelous non-profit organization which provides books to children in need. The money raised by their charity events stays in Horry County and helps the children who live in impoverished communities within our our own area. Thank you First Book for all you do. It was an honor to be your keynote speaker.

The Pat Conroy Literary Center Writers Retreat

I was fortunate to be able to attend the inaugural Pat Conroy Literary Center Writers Retreat in Beaufort, South Carolina which took place January 26-28, 2018. I spent the weekend with a fabulous group of writers. The Pat Conroy Literary Center put the dream team of authors and agents together to teach this weekend retreat. The amazing faculty included: Mary Alice Monroe, Patti Callahan Henry, Cassandra King Conroy, Signe Pike, Faye Bender and Marly Rusoff. I learned so much from these phenomenal professionals. If you have the opportunity to attend any of the Pat Conroy Literary Center events in the future, I highly encourage you to do so. The Center presents some wonderful learning opportunities.

---
Book signing at the Page & Palette in Fairhope, Alabama

Thank you to everyone who came out to my book signing at the Page & Palette Bookstore on August 19, 2017. The Page & Palette is a wonderful independent bookstore in the heart of Fairhope, Alabama. I've been to many bookstores, but this is one of my all time favorite bookstores. The Page & Palette has a knowledgeable staff who are all readers. The staff can make recommendations and help with any project. To make things even better there is a fantastic coffee shop attached to the bookstore and a full bar in the back. I felt like I hit the trifecta! Thank you to Steph1 for taking such good care of me. If you're in the Fairhope area, I HIGHLY recommend stopping by the Page & Palette. You won't be sorry.

---
My Three Kentucky Book Signing Events


It was a joy to see so many old friends and to meet some new friends on my trip to Kentucky the week of August 9-12. During this trip I had the great honor of speaking at the Louisville Military Officers of America Association luncheon. It was marvelous to meet so many wonderful people who served our country in the armed forces.

Next up, I had a successful book signing at the Paddock Shops Barnes & Noble. We were so wrapped up talking to people that we forgot to take photos. Oops!

The final Kentucky stop was the Meade County Public Library. I had a wonderful time. It was so nice to see so many of my classmates and teachers. Thank you to the Meade County Public Library staff for providing such a nice environment for the signing and for supplying us with refreshments. The cookies were yummy!

For everyone who came out to see me, thank you from the bottom of my heart. Your support and encouragement means so much to me.

---
Beyond The Cabin Book Launch Party - August 3, 2017
We had a marvelous crowd for the official launch party for Beyond The Cabin. Thank you to everyone who came out to show your support. Sorry that I didn't get a chance to talk to everyone, but my signing line stayed long the whole night (which is a good problem to have).

---
Waccamaw Library Author Table on January 26, 2107
| | |
| --- | --- |
| | Thank you to everyone who came to the Waccamaw Neck Branch Library Author Table. We had an amazing turnout for the event. It was great to meet so many wonderful and interesting people. Thanks for the great questions and the loving support. Thank you to my fantastic neighbors; Carol Duckworth for helping with my table and Jean Baseel for the lovely gift. Special thank you to Mallary, Steele, and the other staff members at the Waccamaw Library for planning and setting up the event. And of course to my wonderful husband, Bill, who hauled my books and took photos for me. |
---
Barnes & Noble Book Signing Event - November 12, 2016
Thank you to all my friends and family in Louisville, Kentucky who came out to support me at my book signing event at the Paddock Center Barnes & Noble Bookstore. We had an amazing turnout and I was thrilled to see so many old friends and make some new friends. A special thank you to Timothy Barnett for setting up the event for me.
---
Kentucky Book Fair, November 5, 2016
I was honored to be invited to the 35th Annual Kentucky Book Fair. The event was well organized and the KBF staff was fantastic! The staff took such good care of the authors. I was paired at a table with fellow South Carolina author, Bill Looney. Bill is an amazing author and he's so darn funny. We laughed and cut up all day. I was thrilled to have my best friend, Nora Moloney, with me for the day. Nora was a huge help and having her with me made the day even more special. Kentucky is a welcoming state filled with warm and kind people. Even though I live in South Carolina, I'm proud to say that I'm from the great state of Kentucky, also known as the Big Blue Nation (I had to throw that in).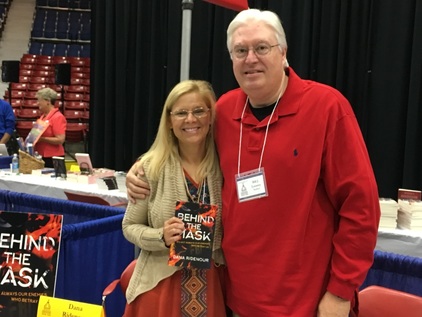 ---
Decatur Book Festival, September 2016
---
Meade County Public Library Signing, June 4, 2016
We had a wonderful crowd at the Meade County Library. So happy to see all of my old friends!
---
Behind The Mask Book Launch Party, April 30, 2016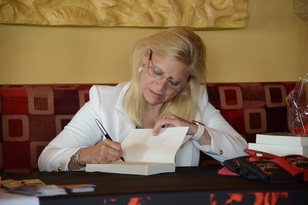 The Behind The Mask launch party was held in the picturesque private event room at Wahoo's Fish House overlooking the salt marsh in Murrells Inlet, South Carolina. There was a fabulous turnout for the launch. It was a wonderful evening celebrating with old friends and meeting new friends.
---